Steve Stern, Boelter's Director of Contract & Foodservice Design, discusses how site surveys can benefit schools and why it's important to conduct them on a regular basis. Steve also talks about the challenges of remodeling school kitchens and cafeterias, compared with brand new construction, and provides examples of interesting and innovative school kitchen design trends he has seen in the last few years.
Want to work with Boelter on your next design or installation project? Contact us to get started.
Excerpts
We're going to be discussing food service design and installation, specifically as it relates to schools K-12. But before we get too deep, the idea of a site survey. Why is it important? What are the steps involved? How does that benefit the schools that you're working with?
Steve Stern: Site surveys and plan studies are fairly recent. What we've been doing over the past three to five years now, what we offer to K-12 schools is the ability to do a site survey for an individual school, or actually for, recently, some entire school districts.

The process essentially is going into each individual school kitchen, learning a little bit about their programming, how many meals they're serving as far as students, how many meal periods and then doing a detailed survey of all the existing kitchen equipment. We look for the age of the equipment, possible code violations and then take inventory notes on the equipment.
...
Who are you generally talking to in those situations? You're talking to the principal, or the school superintendent, maybe the staff in the kitchen directly?
Steve: All of the above, really. On the highest level, we may be engaged by an architect that's part of a master plan study. We also would talk to the business administration people, the principals. Ultimately we really want to get in, talk to the food service directors and the people that are working in the kitchens because they are essentially seeing the day-to-day things that go into serving meals for the students.

Schools are either independently operated, and they'll have a food service director that oversees all the schools in the district, or in some cases they'll be run by an independent food service operator or contract feeder that will come in and run the food service program. There's ultimately one person that it would be, the director, and then each individual school would have a person that would be in charge of that specific school.

...
What kind of feedback are you getting from like the people that are working in the kitchen? What type of information are they providing you that's going to be helpful?

Steve: They're awesome because they are working with the equipment on a day to day basis. So for example, if there's an oven that's not working properly, if there's a refrigerator that's not getting to temperature, if there's a poor layout in the kitchen where the kids are having difficulty getting through the line in a quick manner, they'll know that immediately. They're more than happy to share that with us.

In most cases, it is just part of conversation as we're walking through the kitchen and doing our site survey. In some cases, some of the districts will take the time to actually put written reports together, what they feel the positive things are and the negative aspects of their existing kitchens.

Elementary schools [are] typically smaller. We can get through one maybe in an hour. Some of the middle schools and high schools that are a little bit larger, that may take several hours to get through.

We like to take pictures of the existing kitchens to help put things in the memory bank, things that we may not see the first time walking through. And then we like to actually inventory the existing equipment. We also like to look at the flow and make sure that we're understanding how the food is coming in from, with deliveries, being prepped, being cooked and then ultimately being served. When we're working with districts, we'll tend to spend a whole day working with as many schools as we can get through.
...
What then? Are you putting this together in nice report that you then hand off?
Steve: A couple of different things can happen next. In most cases, what the districts are looking for is prioritizing what needs to be replaced immediately, what can be replaced a few years down the road, what may be code violations, where they need to start looking at how to make improvements to layouts and so forth.

We will put together a narrative that identifies existing conditions. We'll talk about the number of meals they're serving per day, the number of meal periods, the throughput through the individual kitchens. And then we'll identify existing floor/walls/ceiling conditions. We'll do an outline report that identifies existing equipment, and then we'll put an outline together for recommendations for improvements. That can be anything from layout suggestions to simple equipment replacements.

Not structural or architectural. It's just anything related to what a health inspector might review. So for example, if they have a ceiling that has light fixtures where there's exposed light bulbs. That's typically not something that the health department likes. So we would make recommendations for lens covers on the light fixtures. If the floors are in poor condition, we would just make a general comment that health codes require epoxy floors, Cory tile floors or some sort of floor that can be easily cleaned or washed. General recommendations. As far as the actual structural or architectural work, we don't get involved.
...
What's the timing of all this? Are you doing this after school has been let out for the summer? During school to see the flow firsthand?
Steve: Ideally we'd like to do it when school is in service. We would come in when the food service staff is working. Even in some cases where there's concerns about flow, we would come in during and observe a meal period just to gain direct understanding for what improvements they possibly could make.
...
Obviously we're speaking from Boelter's perspective. What other groups or organizations or companies are you working closely with?

Steve: A lot of times we're contracted by an architect. Architect has been hired by a school district as part of a referendum or is doing some preliminary investigation as far as what improvements they can make to a school. Maybe it's a remodel, maybe it's new construction. But the architects would ask us to do this as part of a service that they would roll into an overall master plan study that would include not only kitchen equipment, but when we talk about floor/wall/ceiling, when we talk about acquiring additional space to help improve flow for a kitchen, those are all things that an architect would pull our work together into a broad overview.
...
How long have you said that Boelter's been doing this?
Steve: We've just started doing this about three to five years ago. We've actually been doing it quite a bit more, both on an individual basis and with the entire school district, looking at everything from their elementary schools, to middle schools, intermediate schools to the high schools.
...
What's been the typical reception of this idea?
Steve: The food service staff totally embraces it, because in a lot of cases, quite honestly, a lot of the schools are well over 25, 30 years old, maybe even older in some cases. Especially in some of the elementary schools, the kitchens are totally outdated, and they need help. In some cases, it's very difficult to acquire new space. Older existing kitchens, they just can't build new buildings necessarily. But maybe there's things we can do with portable equipment. Maybe there's things we can do just with the equipment replacement that might help ease the burden of what their struggles might be currently.
...
From a budgeting standpoint, I would assume that the superintendent, the principal, whoever else is involved, that they are looking at to very closely to see what needs to get done immediately, maybe over the summer as opposed to this needs attention, but we could probably put this into next year's budget.
Steve: Exactly. And that's where we can help prioritize what may need to be replaced immediately. Where equipment has been having continuous service issues or maybe the equipment works, but it probably would need to be replaced in a number of years. We can help prioritize that.

In addition to the recommendations we would make, we would also put a value to that. That value would typically be the cost of the equipment and the labor to get it into the building to uncrate it and get it into the building. If there are associated costs with electrical and plumbing, that is not something we do, but we certainly can help get those numbers for the schools.
...
Let's move on to the idea of new installs versus renovations or even remodels. Is a remodel typically more challenging than building something brand new from the ground up?
Steve: In a lot of cases you're dealing with existing conditions and that may be structural things that aren't apparent. Initially, it may be trying to acquire a new space that might include demolishing existing walls. There's always things that you may run into, so the remodels are typically more challenging.

The other thing with remodels, now schools are a little easier to work with in the sense that we have a three month window typically over the summer where we can do construction and there's really nobody yet working in the kitchen. Other market segments that we deal with, the kitchens need to stay operational. There's certainly challenges with remodel projects, sometimes where you have to keep the kitchen operational while you're doing construction. But remodel is definitely a little more challenging than new construction.

There's been so many projects that the day after school ends, we're in there and we're moving out old equipment; the contractors, electricians and plumbers are doing all their disconnects. Just because they know that they have a short window to get all the work done.

Being the food service or kitchen equipment contractor, we can't really move our new equipment in until the very end of the job. It's always very challenging because we're at the mercy of a lot of the other trades. We don't want to move our equipment in until the floor is done, the walls are painted, the ceilings grids are in. If the project's tracking a little behind schedule, there's really not much we can do about it. But we all know that the finish line is that first day of school. We've got to get it done. Start the equipment up.

We've got to train the staff on making sure they're comfortable with operating the new equipment. We have a cool commissioning process. We will submit operation maintenance manuals that identify who the authorized service agents are relative to the location of any installation. We will get authorized service agents, manufacturers, reps or anybody that can do training. We will arrange for formal training on the equipment for the end users. That's part of our commissioning as we close out the job and we'll make sure that we allow enough time based on the size of the project to do that.

...
We've been talking mostly about behind the scenes in the kitchen here. What about in the cafeteria? How much does that play into your role or into project management?
Steve: Cafeterias are more unique. We refer to the kitchen as the back of the house, the cafeteria as the front of the house. The back of the house tends to be more stainless steel. The front of the house, we'll try and tie in elements of colors and unique finishes to a project. Signage, depending upon the type of servery it would be.

Some of the smaller elementary schools might be more linear in nature. When you get into some of the intermediate schools or middle schools, we're starting to do more scatter systems or designs that will lend itself more to having individual stations where people can go for pizza, where people can go for a hot entree, where people can go for grab and go type items. In elementary schools, the students tend to be more served, especially with their hot entrees. With some of the cold items or ambient temp items, they might have a self-service cold bar for the students. But when you get into the middle schools, intermediate schools, the high schools, we try and build in more elements of self-serve. With the high schools, we might introduce some action stations where there might be some assembling of food, like a sub sandwich or a panini or a flatbread pizza or a personal sized pizza or things like that.

If we're working with the school district directly, in some cases,we have the ability to help them identify different laminates or color selections or things like that. Generally with the larger project, we'll work with an architect who will have an interior designer that will be involved with the finishes. They'll pick color selections. They will pick finishes for the walls. They might have some decorative soffits and signage that identify different meal platforms that they may have. In some cases, if it's an outside food service operator, they might have specific signage that they'll use at the various meal platforms that the students will queue up to.
...
Anything come to mind that you've seen in the last couple of years that was really neat to see come to life?
Steve: We've seen some schools do everything from creative handwritten menu boards to neon signage and things like that. That's kind of cool. Introducing some down lighting over the food. Anything bring a neat experience to going through the servery and picking up your food, whatever it may be.

The food court style is definitely popular right now. Trying to blend the traditional hot lunch with more a la carte type items. Traditional hot lunch might be something where it's a government subsidized hot lunch, but then they also will introduce more a la carte fare, things like pizzas, or chicken sandwiches, chicken nuggets. More, I guess, thinking in terms of the traditional fast food type items. What we've done at some of the high schools is actually had a separate serving area aside from the servery that might be kind of an a la carte or fast food type serving station. That could have anything from what I described as grab and go hot food items, even ice cream.

We've also recently been working with some high schools and actually put in coffee shops and bistros in where they have the ability to make everything from smoothies to coffee drinks to quick service type sandwiches. Almost like you'd see in a Panera or a Starbucks or something like that.

Real popular right now in some of the schools is the curriculum having culinary cuisine for the students. We've been working with a number of high schools putting in cooking labs. A number of years ago, they might have residential cooking equipment, an electric range and a residential reach-in refrigerator. We've done a number of schools now that actually have a commercial kitchen with commercial cooking appliances and they actually have a class that teaches kids culinary skills. Kind of a precursor to students that want to become chefs or get into the culinary world, where they would typically go to a technical school or something along those lines. A lot of the high schools now are offering those types of classes and putting in that equipment.

Generally, they would be in a classroom setting. In the case of some of the schools we've recently worked with, they've remodeled an existing culinary lab that had just had residential equipment and they converted that into kind of a commercial kitchen, if you will.
---
---
Want to chat with a Boelter expert? Get in touch!
---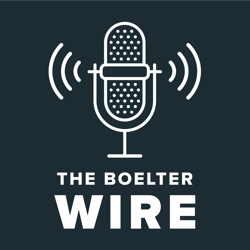 The Boelter Wire is an episodic podcast that focuses on thought-leadership conversations with industry experts and established partners, and is designed to help listeners evolve their business, stay competitive and pursue their passions.
Subscribe to The Boelter Wire here or on Spotify, Google Play, Apple Podcasts or Amazon Music.