With the spike in delivery and takeout heightened by the pandemic, many restaurant owners quickly scrambled to shift their business model for off-premise. Yet, even as they begin to open back up to the public, many may still experience a decrease in the number of customers visiting their dining rooms due to continued social distancing requirements and consumer apprehension.
In parallel, ghost kitchens, while still a fairly new concept, have been gaining momentum. They are essentially the "back of house" restaurant and food preparation buildout of ovens, ranges and refrigerators, populated with chefs and line cooks. Virtual brands or remote extensions of known brands, minus the standard brick and mortar storefront. They are stripped-down commercial cooking spaces, without a dine-in option, that cater specifically to online ordering and delivery.
While non-traditional, there are noteworthy traits of ghost kitchens, given the new reality of today, that should be considered by traditional restaurants to satisfy both consumer expectations and operator efficiencies.
Business Model Modifications
In the coming weeks and months all eyes will be on any new regulations applied to the food service industry. Understanding how these updated and additional codes directly affect restaurants, both new and existing, may be the final deciding factor for restaurant owners to open back up for business, open modestly or close their doors forever.
The most obvious concern will be with new and evolving sanitation requirements. As these changes are brought to light, the associated buildout costs will likely increase. Greater focus on the overall sanitation of a restaurant's dining area, bathrooms, kitchen and prep areas could result in the need for additional equipment. Additional staff may also be required to manage those details to ensure proper guidelines are met each and every day.
With continued social distancing, restaurants that once encouraged and relied on sit-down dining as a large part of their daily revenue will probably see a reduction in the number of tables and seats they can offer. Any ongoing return on that square footage investment becomes a concern when faced with additional sanitation expenses. This may be reason enough for existing restauranteurs, and those considering opening a new restaurant, to begin looking at alternate opportunities such as ghost kitchens or modifying their kitchen in some way to operate similarly for their takeaway business to thrive.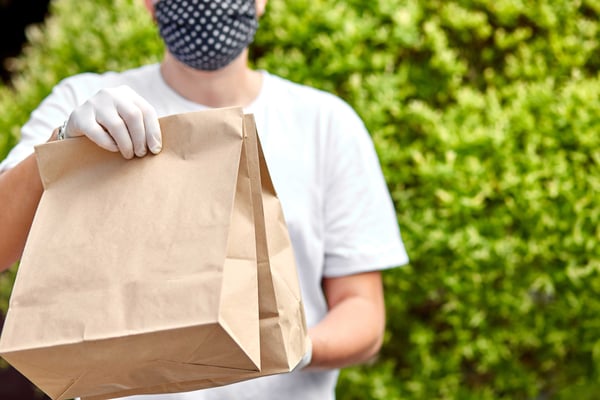 A ghost kitchen's branding is virtual, with no reliance on a store front or dining space. They may be run exclusively from an online format and through the utilization of any number of digital ordering apps and websites. And with online ordering continuing to trend upward, the ghost kitchen recipe for success is one that business owners may be able to insert themselves into nicely.
Key Application: With the increased demand for off-premise dining, the opportunity for restaurateurs to extend their menu for takeout remains. As a quick addition out of the pandemic, given limited options, customers still want to enjoy food from their favorite establishments, even if offsite.
And with the increasing demand for digital ease and convenience, coupled with the growing cost of third-party ordering/delivery fees, it couldn't be a better time for restaurants to switch to a digital solution to manage orders, similar to their ghost kitchen peers.
With growing economic concerns, consumers are more sensitive to quality when they choose to spend on non-at-home meal options. Restaurateurs should look to the ghost kitchen model to create specific menu options conducive for packaging, transporting and even reheating. Yet still retaining some uniqueness to be memorable, drive repeat sales and social referrals.
Space Modifications
Some restauranteurs that have opened ghost kitchens – also referred to as pods – are combining their efforts with other virtual brands and moving into a shared space (and sharing the associated overhead costs) of an existing warehouse or building. The larger the space, the greater the number of pods that can occupy it.
For a shared space, many of the pod-based kitchens are moving into industrial-style warehouses that benefit from lower rent. Downtown locations often equate to serving a greater number of customers than are typically served from a suburb setting. Both the delivery rate and order rate remain consistently higher, resulting in a more strategic business opportunity.
An emphasis of ghost kitchens is final preparation. Instead of hand-delivering every order, from one side of the warehouse to the other, conveyors are being installed to seamlessly transport the cooked food to a communal staging area. When delivery services like Uber Eats and Grubhub arrives for pickup, the meal is prepped and ready for handoff. Ghost kitchens that are focused on processes such as these quickly begin to resemble a well-oiled machine, running at peak efficiency.
Key Application: Meals prepped for off-premise consumption utilize slightly different workflow efficiencies and sanitation requirements than on-premise. Slight reconfiguration of kitchens of any size and layout can be advantageous for restaurants looking to streamline their operation.
If needed, consider adjusting the physical layout of your restaurant – from the back of the house to the front door – in order to better accommodate for the various staging efforts associated with food delivery and curbside pickup. Update your space to provide for a more expedited and better flowing take-out and delivery service.
Every order must be expedited smoothly and efficiently, from the time it's placed, to the time it is handed off to the customer. Make sure all your bases are covered and that each step of the process is well managed and gracefully executed.
Ultimately, having prep space, equipment and to-go containers dedicated for curbside/delivery to minimize excess foot traffic across the kitchen, cross-contamination of staff and third-party delivery personnel and risk of unsanitary to-go containers can be a game changer for restaurants.
The Right Package for the Right Meal
The value of quality food packaging cannot be overstated. Even more so when the primary business model of a ghost kitchen is convenience and delivery. Any additional expenses normally reserved for the upkeep of a dining space could be applied to a more reliable and durable food packaging solution. While a one-size-fits-all option may be practical, it may yield less-than-desirable social posts and limit repeat visits.
It's true what they say – A picture is worth a thousand words. And before any of your customers are sampling your menu items and eating with their mouths, they'll be eating with their eyes.
Utilizing sturdy and reliable packaging for your orders is an important step in maintaining the integrity of the food that is being transported, consumed and often reheated to avoid waste at home. Now more than ever, this continues to be relevant to the ongoing success of food service businesses throughout the country and can certainly be applied to the ghost kitchen concept. Consumer demand continues to rise for quality packaging to complement their order and accompaniments, across a variety of sizes, shapes and materials.
Key Application: Maintaining the integrity of your food is essential. It's your product. The dedication you put into it shouldn't be devalued when it's time to present to your customers. These containers should be durable, prevent leaking, resist breaking and ensure the individual food items are never mixed together. Like the ghost kitchen model, emphasis should be placed on how the food is going to be consumed at a later time and not controlled in the same capacity as on-premise.
Well-designed food packages accommodate for easier stacking and storing and will reduce the likelihood of food shifting around the inside of the container during transportation. Enjoyment of a quality meal, one that has properly maintained its temperature and integrity, will leave lasting impressions about your business and the service you provide.
Learning From Each Other
The food delivery, takeout and curbside space is crowded. Ghost kitchens, in many respects, have set the standard for many to follow. They allow for decreased overhead costs and often are quicker to set up than traditional restaurants. Ghost kitchens also allow brands to try new ideas or concepts and are a lower cost option for expansion.
For current full service restaurants, giving the proper attention to your off-premise menu, improved kitchen efficiencies, safety and cleanliness, ease of ordering and the right packaging will help put you in that upper echelon of establishments, giving you greater agility and more opportunity to survive in these ever-changing times.
Understanding that curbside pickup and delivery will continue to be a focus well into the future, it's important for all restaurants to closely examine their current operation and ensure their businesses are adapting appropriately.
The pandemic has pushed the foodservice industry to become more agile and flexible. Whether you're a family run restaurant that's been a neighborhood favorite for the last 30 years, or an up-and-coming restauranteur with fresh and new ideas. We can all learn from each other during these difficult times and look for ways to lend a helping hand.
Want to speak with a Boelter expert about ghost kitchens or food packaging? Get in touch.