Utilizing sturdy and reliable packaging for your delivery, to-go and curbside pickup orders is an important step in maintaining the integrity of your menu. Now more than ever, this continues to be relevant to the ongoing success of food service businesses throughout the country. And the demand for quality disposables, across a variety of sizes, shapes and materials, continues to rise. Understanding which option is best for you and your business, while being cognizant of the needs of your customers, is a decision that should be thoroughly vetted.
Controlling the quality of your meals is a priority. The biggest challenge comes with keeping hot foods hot, cold foods cold and preventing cross-contamination. When weighing all of your disposable container options, be aware of both the advantages and disadvantages before committing to a final product decision. Consider the importance of safe packaging and when it makes sense to over-package your meals.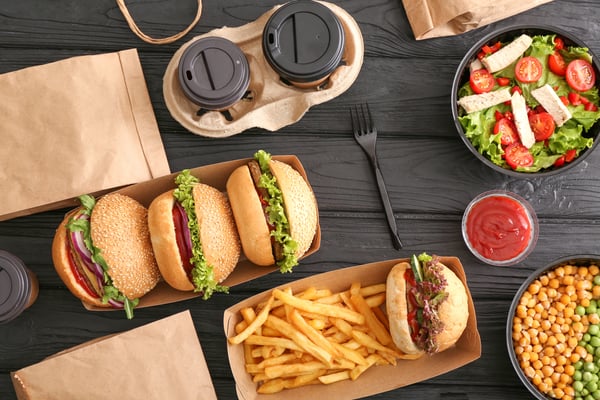 Maintaining the integrity of your food is essential. These containers should be durable, prevent leaking, resist breaking and ensure the individual food items are never mixed together. Well-designed food packages accommodate for easier stacking and storing and will reduce the likelihood of food shifting around the inside of the container during transportation.
Styrofoam, or single-use packaging, continues to be the primary, go-to source for food delivery services. It remains as the most accessible and least expensive option. But accessibility and affordability shouldn't be the only deciding factors. Recognizing how this entry-level packaging protects and maintains the freshness of your food should also be taken into account. Consider how this will affect your brand and your reputation. Your customers deserve quality meals, even when it's been packaged for delivery. As the demand for delivery containers continues to rise, there will be a shift away from simple necessity and toward opportunities of customer preference.
On the higher end of the price range is a line of plastic disposable options. Many of these designs offer darker colored bottoms and clear tops that accommodate for better overall seals, significantly reducing any potential for leaking. Additionally, clamshell disposables utilize a hinged top, making it easy for your customers to see the food that is stored inside.
Replacing plastic, Styrofoam and Polystyrene packaging with eco-friendly alternatives produced from plant-based plastics and natural materials continue to make their mark in the industry. In addition to disposable containers, these eco-friendly advancements in sustainability are also being applied to high-quality plates, cups and bowls. Taking care of your customers while taking care of the planet at the same time is something to be proud of.
Including a variety of cup carriers makes it even easier for your customers; whether the order is to-go, curbside pickup or delivery. When managing a large order for the entire family, your customers will appreciate the convenience of drink carrier handles and take comfort in knowing that spilled beverages are less likely to occur.
Durable packaging solutions also play a role when it comes to reheating extra food. Microwaveable containers make leftovers for the next day's meal a win for your customers. Utilizing reliable to-go and delivery products that support your menu ensures that your
customers are receiving the consistently high quality of food that your business is known for. Providing your customers with the experience they have come to expect when dining in, but from the comfort of their own home, will go a long way with customer satisfaction and retention.
Learn more about our takeout supplies offering or contact a Boelter expert to discuss disposable containers and which option is right for your business.