Leveraging technology is key to the success of your restaurant, bar or craft brewery. In this episode, Dan Holen, Principal of Boelter Blue, focuses on the strategies that help restaurants and bars compete with big brand or chain operations using the tools and technology available.
Want to see what Boelter Blue can do for you? Book a demo now.
Excerpts
We're talking about running your own restaurant or craft brewery. Leveraging technology to help in that task and be more successful is probably key to that business model. So let's start by talking through the idea of automation: What does it mean and how does it help to bring these businesses top of mind?

Dan: Automation is there; it exists. You really need to ask yourself: how are you engaging with your customers in [a short] timeframe? I hear a lot from customers that automation sounds like a good idea, but how do I actually implement it into my business and into the day to day? How do I leverage it correctly so I can focus on food and service, while the automation and technology work in the background?

I think first is utilizing things that are available out there. There is some automation built into social media where you can pre-schedule posts ahead of time. There is some work involved in that, of course, but you can sit down and kind of map out your entire month ahead of time and get it out.

Facebook does a lot of the pre-scheduling. There are some things you can do on Instagram, too, to make your life easier. [A mobile app] allows you to interact with your customer based upon their interaction with your business. So if your customer hasn't been there for a while, you can send them a message saying, "Hey, we miss you. Come on in." Or if their birthday is coming up, it'll say, "Hey, we know it's your birthday week. Come on in and get a free dessert or free drink."
...
How important do you think it is for a restaurant or bar owner to utilize an app? If they trying to run their business, where's the value in using an app like this?
Dan: I think it's incredibly important. Historically, apps have always been really expensive. But with Boelter Blue, we developed a system to keep it more cost effective. It starts with all the stats: 77% of Americans have smartphones today. There were over 194 billion apps downloaded just last year alone. And 47% of people in the U.S. admitted that they can't live without their phone.

It's become ingrained in our lives. You don't have to be the big player to have an app, like Starbucks or Dominoes or Outback or McDonald's. A lot of them attribute a lot of their success to their mobile app. They're able to push things out directly to their customers, right on their cell phone. And we've created a similar experience to that for the smaller guy.

When I talk to our pool of existing customers, the number one thing that they love about a mobile app is that they could put everything in one place. Everybody wants to interact with you. What they like, whether it's your menu or your live events or whatever it is they want. A mobile app allows you to put all that in one place and direct people there. You can have your event calendar, first-time guest programs, menus, push messaging, daily specials, birthday rewards, waitlists reservations, I'm online ordering, etc.
...
What other types of tools and technology could you recommend? What else can give these smaller, mom and pop operations an advantage or make it a little bit easier for them to compete with these larger chain operations?
Dan: There are a lot of tools out there, and many of them are actually free. On the online ordering side of things, there's a company out there called GloriaFood. They provide an online ordering service and it's completely free. They charge a small monthly fee for credit card processing through the system, but it's free for you as the restaurant for the most part. You can put that on your website, on your Facebook page and your app, whatever you have.

If you want to gather info from your customers, like names or emails, or create surveys about how your staff is doing or how people feel about you business, there's Google Forms. I've seen people create employment applications through Google Forms. It's really easy to use. You click and drag stuff around and do what you need to do.

Instagram is a great way to showcase your food and drinks and atmosphere. You can look like a professional photographer without being one by using Instagram. But more importantly, it links up to other social media channels. Your Facebook page, for an example: you can post at the exact same time to both platforms.

Then there's obviously things out there like reservations and waitlist. Here at Boelter Blue, we developed a system where all of our customers get for free. It's for someone who doesn't want to necessarily put on a full-out reservation service or pay the huge price tag of a lot of big brands out there right now that are advertising reservations. People pull up their mobile app, they put their name on a waiting list, they can see how many people are ahead of them, how much time they have. So before they hop in the car and drive there, they put their name on the list, and they can save time that way.
...
Can you cover what a "mobile friendly" website means and why that's important for business?
Dan: This is so incredibly important. About 80% of people view content on their phone over a desktop computer. If your website is not mobile friendly and is not easy to navigate or easy to read, you're going to turn people off. They're just going to go somewhere else. They're going to leave your website. It's just the nature of the beast.

I get asked a lot, how do I know if my website is mobile friendly? A really easy way to check is to pull up your own phone and look at your website. Is it easy to read? Is it easy to navigate? Do you need to scroll and zoom in? If you need to do that, it's not mobile friendly. You can also go on your desktop computer and shrink your web browser down to a phone size. If all the information morphs to the size of your screen, then you are in mobile friendly. If not, then you're not mobile friendly. That is a must in 2019, without a doubt.

It all really depends on what your website is currently on or built on. If somebody designed your website, I'd recommend talking to them and telling them: "I need to be mobile friendly. What can you do for me?" If you used a free service like Squarespace or Wix or something like that, you can turn the mobile setting on and then build it yourself on your computer. So there are options out there.
Besides becoming familiar with the strengths and weaknesses of technology, what other advice can you give?
Dan: Play to your strengths and double down on them. If you're a burger joint, be a burger joint and be really, really good at it. You can't be everything to everyone. Stay true to your brand, and your customers will follow you and they will get behind you. There's a fine line. You want to have a diverse menu to a certain extent, but just be true to who you are.

And although technology is so integrated in our lives, traditional customer service values and word of mouth will always be number one. When stay true to who you are, that message will be positive across the board, especially online.

Think outside the box. Shake things up. Being a small mom and pop place, you have the ability to do that. It's a lot harder for a Domino's or an Outback or a Texas Roadhouse to launch something new or something crazy with a lot of channels, a lot of moving parts. If you're a small operation, you have ability to try new things.

You know, [Domino's] started a loyalty program, rewarding people for eating any pizza, not even Domino's. No matter what pizza you're eating, you're thinking about Domino's. It's really thinking outside the box and now people are talking about it, right? They're having these conversations. They're telling their friends about it. It's free marketing on top of it.

Get your staff involved. I don't see that enough, if I'm being honest, with restaurants. It takes some work off your plate. But more importantly, it gives them a sense of ownership in your business. And you'd be pretty surprised what people come up with. It opens up the door to some cool opportunities.

Lastly, I'd say: come up with like a newsworthy product or promo. I'll give you an example of a local place here in Milwaukee called Sobelman's. They're known for their burgers and Bloody Mary's. They made a giant Bloody Mary, comes in a massive mug. There's hard boil eggs on it, and bacon, and they put a full fried chicken up on top of it and they charge like $50 for this thing. What was so smart about it is they took all the stuff they were already doing, and they just made it this crazy thing that people wanted to talk about. They made a newsworthy product. You can do that in your own restaurant. What are you currently doing well? Put a spin on it. If you think big, people will talk big.
This notion of "eat local" – what is that exactly, and what does it mean for these same restaurant and bar owners that we've been talking about?
Dan: It's huge right now. It's definitely trending. People like to know where their stuff is coming from, food in particular. So if you get your food from a local farmer, let people know. If not, think about where is your food coming from. Are you proud of that? If not, there are so many opportunities for you to change that up. There are local farmers or local shops or local grocery stores.

Distilleries and breweries, they're popping up like weeds. They're all over the country. And a lot of them are self-distributing. Reach out to them and network. "Hey, you're local. You're making great beer. Let's put your beer on tap." Maybe do a tap takeover event at your bar. Show that you're supporting local businesses and helping each other out.

Sponsor baseball teams, donate to charities, raise money for families in the area. It's important to network with the community in general. If you're not doing any of this now, it can be a little overwhelming to think about. But my recommendation would be to do one thing to start small. Do one thing in the community and start to let it build and see what happens when opportunities arise.
---
Ready to grow your food or beverage business? Get started with Boelter Blue today.
---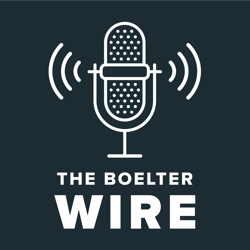 View full list of available episodes
The Boelter Wire is an episodic podcast that focuses on thought-leadership conversations with industry experts and established partners, and is designed to help listeners evolve their business, stay competitive and pursue their passions.
Subscribe to The Boelter Wire on Spotify, Google Play or iTunes.