Traditional Biergartens grew out of a brewing ban during hot Bavarian summers throughout the 16th and 17th centuries. Brewers dug out cellars on the river banks that allowed them to store excess beer at cool temperatures. Of course, where there's beer there are people who'd like to drink it, so out of these caverns came "beer cellars."
It wasn't until the 19th century that breweries began building up flat river banks under the entrances to their beer cellars, planting chestnut trees and setting up tables and benches for people to spend time drinking beer outside. Thus, the beer garden was born!
It wasn't long before German immigrants introduced the concept in America. Open-air establishments like these have only gotten better with the addition of food menus, live music, comfortable seating and more.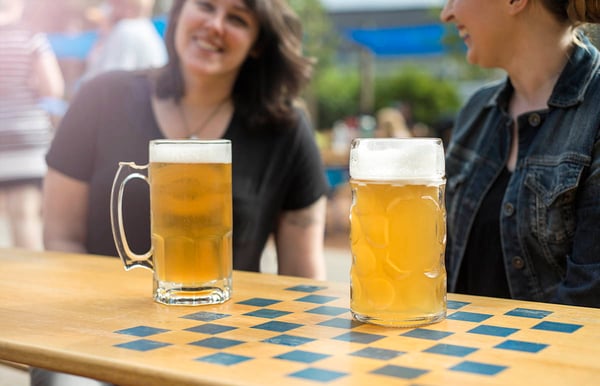 On the other hand, not everything has changed. People still love to spend their summer days outside sipping cold beer. With the recent craft beer and spirits boom, this opens up tremendous opportunities for those in the beverage industry.
Whether your brewery or distillery is planning to open your own outdoor garden, or if your brand is being distributed to brewpubs and restaurants with outdoor seating, these branded products will help spread your brand and make you a staple in modern beer garden culture.
To grow brand loyalty, your brand needs to make customers feel great, both with your beverages and your image. What better place to do that than in America's favorite summer gathering spot, the beer garden.