You've spent months planning. The layout and floor plans are complete. Everything from seating requirements and tabletop choices, to menu options and craft beer selections, you couldn't be any more prepared. You and your staff are eager for the grand opening and there is a heightened sense of excitement in the air. The only thing left to do is open your doors to the public and enjoy the success of running your own business. And while you've been sharing this moment with friends, family and neighboring businesses for weeks, traffic has fallen short of expectations and has been inconsistent at best.
Why? What did you forget? Was something overlooked? Competition is fierce! With more than 1 million restaurant locations in the United States, and the number of craft breweries and brewpubs continually on the rise year-over-year, it should come as no surprise that restaurant and bar owners must focus on more than just word of mouth, radio ads or the occasional 30 seconds of air time on the local network to create buzz about their business.

But not just any marketing strategy will do. A robust and diverse digital marketing plan, one that also leverages mobile technology, will play a significant role with effectively attracting and retaining customers. Utilizing an app that has been specifically designed for your restaurant or bar that allows you to directly communicate with your customers, as well as employing a variety of additional marketing automation initiatives, will ultimately allow you to spend less time and money on your overall marketing efforts, while simplifying and maintaining your path for continued growth. Whether you're preparing for a grand opening, or working toward celebrating a 6 month anniversary pursuing your passion, the following are a number of target marketing opportunities and initiatives every aspiring restaurateur or craft brewer should to take into consideration:
INCREASE YOUR ONLINE VISIBILITY - Restaurants that position their business on Google and Yelp greatly improve their search rankings and prompt a higher number of customer reviews. But this needs to be kept current as often as possible. Many establishments fail to update their Yelp pages and their Google My Business pages adequately and often overlook the necessary contact information. By inserting your unique and original brand, you'll make it easier for customers to find you online.
HAVE A STRATEGY - Your digital media strategy should be flexible to more easily respond to what does and doesn't work. Proactively monitor what your customers are responding to and engaging with and double down on those processes. Focus on what's working and less on what may be coming up short. For example, updating an online digital loyalty program based on the feedback you are seeing from your customers is easier (and quicker) than revising and redistributing an antiquated physical loyalty punch card.
ALIGN YOURSELF WITH MOBILE TECHNOLOGY - Most consumers expect information to be available at their fingertips. When deciding where to eat, more than 90% of people search for information about restaurants and brewpubs on their smartphone, with 84% of them contacting that business as a result. An app with your menus, reservation, ordering, payment and delivery capabilities maintain accessibility and convenience. And convenience is a big part of the overall experience that customers are looking for. If too much is being asked of your customers they may abandon your business before ever stepping through the front door
ONLINE RESERVATIONS & WAITLISTS - If you're a restaurant that only accepts reservations by phone—or don't offer reservations at all—consider this: according to OpenTable, 83% of diners want to have the option to add themselves to a waitlist and get notified when a table opens up. In an on demand world, patience is less than popular. Simplify your reservation process and minimize the overall wait time by providing your customers with digital options that result in a better, and more convenient, experience. Digital waitlists offer an easy way to control customer flow and turn tables.
LEVERAGE SOCIAL MEDIA - Customers love to see what is offered before deciding where to go. Show them, don't just tell them. Instagram is a fantastic option for enticing people with tasty-looking and thirst-quenching photos. It's also beneficial to post short, unique videos on Facebook – such as your chef's cooking techniques, a quick recipe or a behind-the-scenes look at your brewery. And don't forget to use trending hashtags to increase post visibility when using Instagram and Twitter. For example, include #happyhour, #brunch, or #foodielife, along with the name of your restaurant or brewpub. All of this will help keep your establishment top of mind with regulars and first time customers.

SKIP THE LOYALTY PUNCH CARD - Your regulars expect a loyalty program. However, more often than not, their punch card is in the car, left at home behind a refrigerator magnet or buried in the black hole of a kitchen drawer. Express the value you have for you customers and reward them automatically through a personalized app that can be easily accessed, managed and maintained.
EXTEND YOUR REACH - Your customers enjoy reading about your employees, recipes, new craft brews, diet and nutrition facts and exciting updates about your business. Keep your content fresh and educational to showcase your expertise and build engagement with as many followers as you're able. Don't waste time and effort on irrelevant content, just for the sake of frequent posts. Create content that's interesting and adds value to their lives and consider posting special events and promotions to keep your customers connected and in-the-know.
RESPOND TO AND REQUEST REVIEWS - One of the best ways to make your guests feel like their concerns and suggestions are heard is by responding to their online comments. If they have a complaint, tell them how you have solved the problem and offer them a discount on their return visit. Yelp reviews can bring a huge increase to your business as well, so politely remind your customers to fill them out. Just a half-star bump in your Yelp review can yield a positive increase in your business.
COMMUNITY EVENTS - Partnering with organizations and neighboring businesses and getting involved with local promotions not only builds awareness but increases business on the day of the event. Offer a discount if they visit your establishment after a special event or provide a complimentary cocktail or beer if they download your app. Applying for local business awards is another opportunity to gain recognition and stay top of mind.

TAKE YOUR STRATEGY ON THE GO, WITH MOBILE MARKETING - By 2020, 77% of the US population will be using mobile technology daily. It's the go-to technology for personalized communications. Adding to this impressive statistic is the notion that thirty-five percent of smartphone users are already claiming to use their phones more than 50 times a day—this is where restaurant and bar owners and operators can make the biggest impact. Personal means connecting with customer routines, moods and of course, discerning taste buds. Attracting new customers, building loyalty and running a variety of continuous promotions requires a heavy investment of time and energy. With automated marketing, your app does most of the work, allowing you to focus on what you do best—providing great food and service. Capture guests at every touch point with photo push messaging, social media posts and more. Utilizing a robust app allows you to acquire more first-time guests, make your regular guests feel like insiders and remind customers who haven't visited with you in a while why they should consider returning. An app has the ability to act as your personal, day to assistant. Send your loyal customers birthday wishes, offers and alerts, giving them the personalized experience they prefer and deserve. With an automated marketing strategy, you can create a series of push notifications triggered by their activity. Notifications can be sent right away, pre-scheduled or programmed to be delivered in certain situations. Either way, it communicates why your business is the perfect option for that moment. Digital marketing is about standing out from the crowd and better positioning what you have to offer. Don't just copy what your competition is doing. Be unique and think outside the box. Think about the ideal experience that first-time guests and regulars prefer to have in your restaurant, bar or brew pub and develop a strategy to get them coming back. The advancements of technology over the last few years is creating the perfect opportunity to deliver that experience to your customers.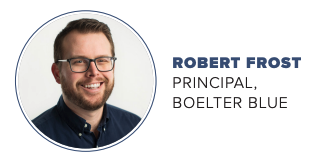 Learn more about Boelter Blue as a marketing solution for your business. Download this industry perspective as a PDF here.