According to bar insiders, bars don't always keep up with the same safety and sanitation standards as restaurants. Some problems cited include garnishes left in the reach of guests who can make whole containers of sliced olives or limes unsanitary, and cutting boards left unwashed for weeks, or – dare we say it? – even months. Further, glasses were not always cleaned, sanitized, or dried properly.
The reality is that clients want to be served quickly, and sometimes other tasks can fall by the wayside. This doesn't need to be the case, however. The best way to make sure your bar is operating efficiently while protecting your clients' safety is to make sure your establishment is stocked with essentials that simplify clean, productive service. San Jamar, an industry leader in smart, safe and sanitary food service solutions for over 20 years, offers innovative products to solve these problems.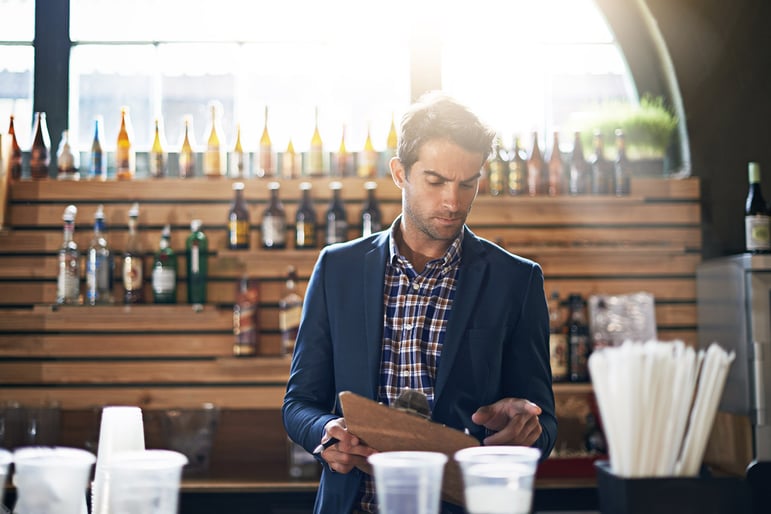 Here, we'll describe some of the most important items in three key areas to streamline and sanitize operations, even on your busiest nights.
Sanitary serving
Ensuring your bar's sanitation requires a focus on proper storage and cleanliness habits. These products can simplify these procedures:
Kleen Plug
If you use kegs of beer, you understand the problems that surround safely storing these vessels. For example, fruit flies can gather near the plug overnight, and yeast and sediment can accumulate, sullying the beer's flavor. The San Jamar Kleen Plug, designed for all tap sizes, remedies these problems.
You can purchase a 5-pack of the Kleen Plug at discounted prices through Boelter. Because of our long-term reputation as a leading food service equipment and supply provider, products are often even more affordable through Boelter than they are on suppliers' websites.
Bar Boards
Meeting the strict standards of the National Sanitation Foundation (NSF), San Jamar's Bar Boards will not warp under the rigors of commercial-grade dishwashers. Instead, these small, efficiently-sized boards, designed for cutting garnish, are made of a co-polymer that is durable but will not dull your knives. You should keep multiple boards on hand so that you can wash each one of your boards regularly and avoid cross-contamination between multiple garnishes.
Equipment counters
Even if you clean your glasses properly, drying them incorrectly can nevertheless cause them to become unsanitary. Further, as bartenders are handling multiple orders, an improperly covered bar surface can make glass-handling a challenge. Implement these changes for easier glass-drying and drink handling:
Versa-Mat Shelf Matting
The Versa-Mat is a safe and attractive method for properly storing and drying your glasses. Versa-Mat's raised design ensures that glasses receive the air required for proper drying. In addition, unlike comparable products, the Versa-Mat personalizes your bar. Each Versa-Mat interlocks with other mats; in addition, you can cut the mats so they fit snugly around curves in your bar. Versa-Mats come in four colors, too, so you'll always be able to find one that fits your color scheme.
Poly-Liner and Ultraliner
For other parts of your bar area, consider a San Jamar's Poly-Liner or Ultraliner. These plastic mesh liners lie flat on surfaces to protect your glasses from slippage or improper drying. The liners are easy to cut, too, for easy surface-covering.
Garnish stations
As mentioned above, guests can touch garnish stations if they are not properly covered, rendering all your pre-prepared garnishes inedible. Ensure a sanitary garnish station with the following closed-lid products:
Garnish Centers
For safety, the San Jamar Dome Garnish Center is designed with a lid that rotates open and closed for easy access. But the Dome also has efficiency and simplicity as part of its design. For one, compartments can easily be removed and replaced if refrigerator storage is needed. Additionally, snap-on caddies can store your stirrers, straws, and toothpicks. And there's also the biggest simplifying product feature: the Dome is entirely dishwasher safe and NSF-certified.
Rimming Station
The Dome Glass Rimming Station lets you rim glasses with salt and sugar safely with its storage drawer that closes into the station when not in use. This storage drawer also includes a compartment to store a sponge. For efficiency of space and storage, the Rimming Station can be paired with the Dome for storage of all your drinks' finishing touches. Additionally, the Rimming Station is designed with space for a cutting board and paring knife.

If you live in the Atlanta, Chicago or Milwaukee metro areas, you can entirely customize your bar with San Jamar products – before buying anything! Visit one of our Boelter SuperStores to see the products that you might need in person first. If you live elsewhere, remember that San Jamar products are offered at discounted prices through Boelter's online shopping portal, www.myboelter.com.