Creating the ideal experience for the craft beer connoisseur goes beyond using the right glassware. How you serve your beer has its own considerations.
From the type of serving tray to pitcher and coaster design, there are many ways you can enhance the experience for the bartender and the customer. Branded serveware is also a great marketing opportunity to keep your brand name top of mind.
Here are some of the most popular beer serveware options.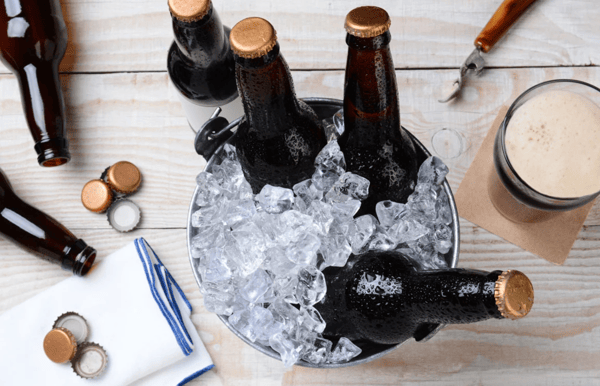 Beer towers
When a group wants to serve itself beer without ordering individually, beer towers can be a great alternative to pitchers. They're less messy and typically able to hold more volume.
Buckets
Whether indoor, outdoor, plastic or galvanized, buckets come in many different shapes and sizes. Branded traditional, specialty or large tub buckets are great for boosting brand visibility while keeping your drinks icy cold.
Caddies
Caddies are a great way to keep tabletops from becoming overcrowded. Wire, cardboard or plastic custom caddies are excellent for displaying your brand tableside while also keeping your condiments orderly.
Serving trays
The type of serving trays you have should fit your menu, level of service and staff. Customized trays with an anti-skid surface are a great way to safely serve your fine food and drinks while keeping your brand front and center.
Pitchers
Thick, clear glass pitchers are perfect for serving ice cold ales and lagers. Stackable plastic pitchers are an economical choice for parties, festivals and outdoor events of any sort.
Growlers
Growlers are the ideal solution for on-the-go beer enthusiasts who can't carry beer out in a bottle or glass. They're also an optimal promotional tool—put your logo on a growler and your brand will travel with them.
Taster paddles
A staple at any bar, a typical taster paddle holds four small sized glasses. These are perfect for letting guests sample a variety of brews, especially when you have an array of seasonal specials.