Restaurant mobile marketing: Minimal expense, maximal growth
A digital marketing plan lets you spend less time and money on marketing efforts, simplifying your path to growth. Through a restaurant app, you're able to capture more first-time guests, make your best diners feel like insiders and remind patrons who haven't dined with you in a while why they ought to return.
Boelter Blue can help you make an app that interacts with clients, for affordable advertising that works.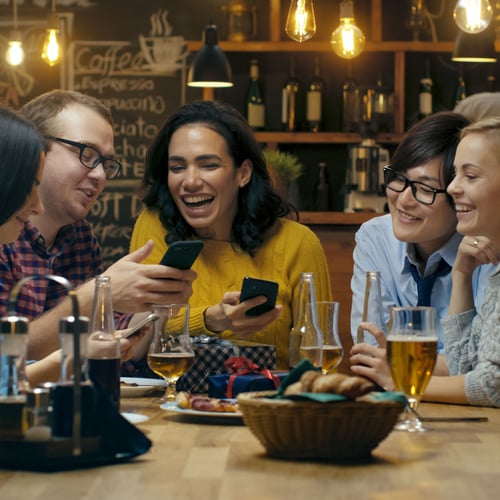 5 promotion ideas to grow your restaurant digitally
Leverage the smartphone platform for advertising. Thirty-five percent of smartphone users say they check their phones more than 50 times a day—this is really where you can make an impact.
Cut out unnecessary content. Don't waste money on irrelevant content just for the sake of posting frequently. No one wants you to oversaturate their channel. Create content that's engaging or adds value to their lives. Consider posting special events, new menu items, or promotions.
Show, don't tell. Consumers aren't interested in you telling them how wonderful your restaurant is; they want to be convinced. Post pictures of your best dishes across social media and highlight positive customer reviews. If you've won local awards, post links to those accolades. Let others tell potential diners you're great; don't do it yourself.
Go beyond discounts. While discounts and coupons are great, it becomes an expectation as people get accustomed to them. What people aren't used to however are free offers, giveaways and chances to upgrade. Having a loyalty program with these type of offers makes your customer feel special.
Don't copy competitor campaigns. Differentiate yourself. For example, you could create a YouTube video series demonstrating simplified ways for viewers to prepare your popular dishes at home. Or, you could post stories focused on your staff members' backgrounds and personality. In marketing, copying is not the sincerest form of flattery.
Build your restaurant traffic with smart mobile restaurant marketing strategies and the Boelter Blue restaurant marketing app.