During the holidays, drinkers are excited to sip anything seasonal. That means serving up steaming hot beverages and infusing drinks with cinnamon, cloves, peppermint, cranberries and more.
While these drinks might add a bit more prep time, they're also more profitable than your run-of-the-mill beverage. That's because the right blend of seasonal flavors and beautiful garnishes paired with the perfect glass creates a memorably delicious treat holiday drinkers are willing to pay a bit extra for this time of year.
Entice guests of all tastes with these four holiday cocktail recipes, each of which denotes which glass to use for the best smell, taste and visual appeal!
Classic Mulled Wine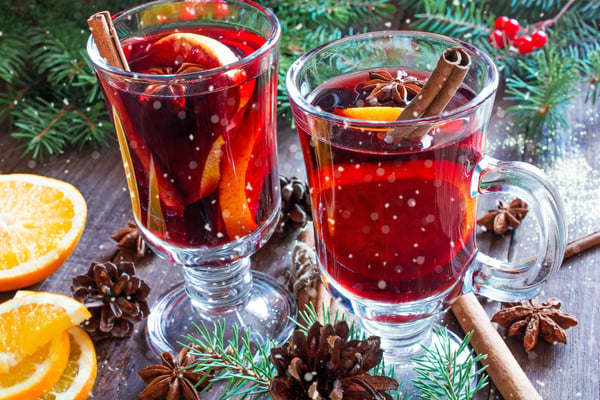 Mulled wine is the ultimate old-school cocktail - it was invented in the second century! You'll need:
4 cups apple cider
1 bottle red wine
1/4 cup honey
2 cinnamon sticks
1 orange, zested and juiced
4 whole cloves
3 star anise pods
Combine ingredients in a saucepot, bring to a boil and then simmer for at least ten minutes. Garnish with orange peel.
Not only could you double or triple the recipe, you could prepare it in a slow cooker to make your establishment smell amazing. It's also a great upsell opportunity if you serve your mulled wine in a customized, branded mug guests can purchase.
Chocolate Covered Cherry Martini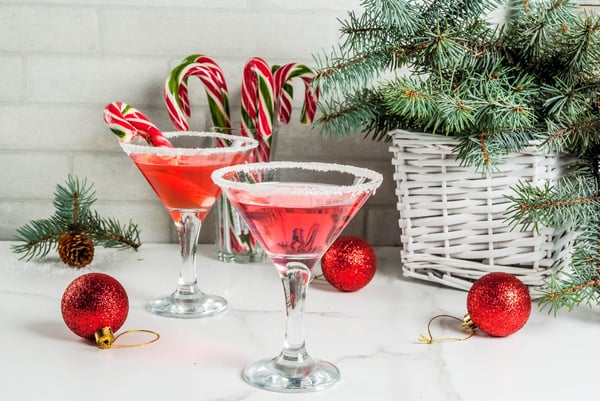 Delicious and decadent, this sweet cocktail is perfect to offer guests who are interested in treating themselves to dessert.
1-1/2 oz. cherry vodka
1-1/2 oz peppermint schnapps
2 oz. cream
chocolate syrup
crushed candy cane for the rim
Shake together all ingredients in a cocktail shaker with ice. Garnish a martini glass with the crushed peppermint and pour in the mixture.
Holiday-Spiced Manhattan
The Manhattan is known for being a serious cocktail, but why not make one with a bit of flair for the holidays? We like this seasonal twist on the classic, created by blogger A Spicy Perspective.
First, make the spiced vermouth:
2 cups sweet vermouth
1 teaspoon allspice
2 cinnamon sticks
2 whole cloves
1 dash cayenne pepper
1 dash sea salt
Bring the vermouth to almost boiling, add the spices and let steep for several hours before straining out the alcohol.
Next, make your Manhattan by shaking 2-1/2 oz cognac, 3/4 oz spiced vermouth and ice together. Pour into a coupe glass and garnish with Angostura bitters, orange and nutmeg.
Yule Mule
Though the Moscow Mule is often considered a summer beverage, it doesn't have to be confined to the warmer months! It still should be served up in its traditional copper mug, though, one you can brand with your restaurant name for drinkers who want to take one home.
Here's what you'll need to make a Yule Mule:
4 oz vodka
Ginger beer
Juice of one lime
4 oz cranberry juice
Shake together the vodka, lime juice and cranberry juice. Fill your two copper mugs with ice and pour in the mixture. Fill to the brim with ginger beer and top with a few cranberries and sprig of rosemary.
Adding all or a few of these seasonal cocktails to your menu can really liven up your establishment's holiday spirit, attract more guests and garner you some more green, too!
Looking for the perfect glassware to upsell and serve your holiday drinks? Reach out to one of our Boelter Glassware Experts.