Mother's Day is an important occasion in the food and beverage industry. Not only is it a special day to celebrate mothers of all kinds and everything they do, it's also a huge business opportunity. You probably have great ideas for how to attract business for the day itself, but how can you leverage Mother's Day to capture the attention of families all year long? Our infographic shares tips on making this holiday work magic for your restaurant.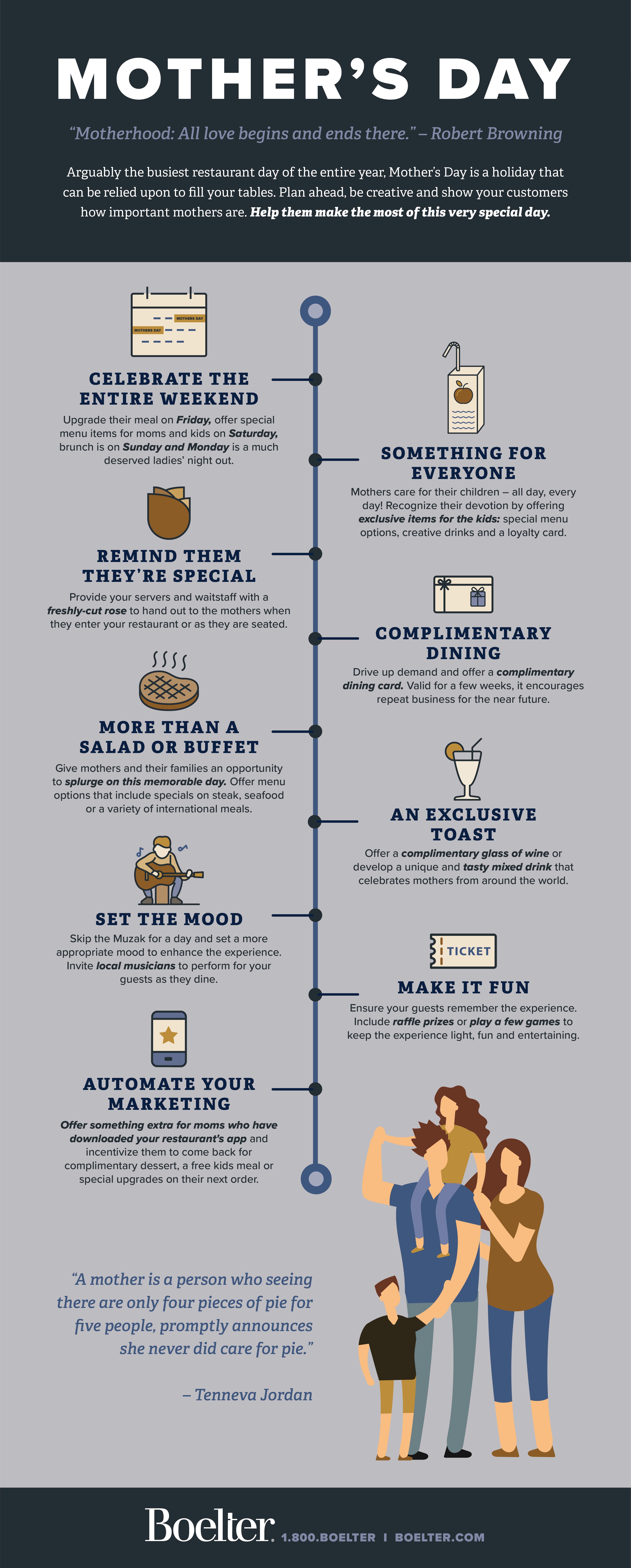 Love this infographic? Share it on your site!
Also, be sure to check out our post about how you can use big events and holidays to market your restaurant.
---
Below is a transcription of the infographic above.
Mother's Day
Arguably the busiest restaurant day of the entire year, Mother's Day is a holiday that can be relied upon to fill your tables. Plan ahead, be creative and show your customers how important mothers are. Help them make the most of this very special day.
Celebrate the Entire Weekend - upgrade their meal Friday, offer special menu items for moms and kids on Saturday, brunch is on Sunday and Monday is a much deserved ladies' night out.
Something to Everyone - Mothers care for their children - all day, every day! Recognize their devotion by offering exclusive items for the kids; special menu options, creative drinks and a loyalty card.
Remind them they're Special - Provide your servers and waitstaff with a freshly-cut rose to hand out to the mothers when they enter your restaurant or as they are seated.
Complimentary Dining - Drive up demand and offer a complimentary dining card. Valid for a few weeks, it encourages repeats business for the near future.
More than a Salad or Buffet - Give mothers and their families an opportunity to splurge on this memorable day. Offer menu options that includes specials on steak, seafood or a variety of international meals.
An Exclusive Toast - Offer a complimentary glass of wine or develop a unique and tasty mixed drink that celebrates mothers from around the world.
Set the Mood - Skip the muzak for the day and set a more appropriate mood to enhance the experience. Invite local musicians to perform for your guests as they fine.
Make it Fun - Ensure your guests remember the experience. Include raffle prizes, or play a few games to keep the experience light, fun and entertaining.
Automate your Marketing - Offer something extra for moms who have downloaded your restaurant's app and incentivize them to come back for complimentary dessert, a free kids meal or special upgrades on their next order.
Also, be sure to check out our post about how you can use big events and holidays to market your restaurant.