The evolution of the beer growler has a long and interesting history. Beginning as far back as the late 1800s, tin pails, pottery, glass jars and jugs were all used to carry beer home from the local saloon. The term "growler" was derived from the "growling" sound the beer would make as it sloshed around the inside of these containers, causing carbon dioxide to escape from the lid.
At the start of the early 20th century, the price to fill a growler was approximately five cents – and so the term "nickel beer" was coined. By the 1950s, tin pails were replaced by wax cardboard containers. Taverns began switching over to plastic containers in the 1960s and were eventually allowed to sell pre-packaged beer after hours – temporarily eliminating the need for growlers.
However, the growler resurgence started anew in 1989 when the Otto Brothers Brewery in Wyoming began offering their draft beer to go. The traditional growler underwent a significant facelift over the years that followed, including silk-screening brewery logos onto half-gallon glass jugs.
Counter-pressure filling technology has all but eliminated the risk of stale or flat beer, and the continued explosion of the craft brewing industry has ensured growlers as an essential accessory for beer connoisseurs everywhere. Current growler container options include: one- and two-liter, 64-, 40- and 32-ounce glass, ceramic, stainless steel and vacuum-insulated.
Unfortunately, due to ongoing health concerns, there is still a large percentage of consumers uncertain and cautious about visiting their favorite craft brewery. Adding to this are the continued social distancing requirements that translates to a predictable reduction in allowable seating capacity. The result of this current landscape? Selling growlers, as a viable off-premise sales strategy, is likely here to stay.
Many growler programs that breweries implement ask people to pay up front for the entire package and come in to the taproom to redeem. This gives your brewery money up front which can be nice during times like these. To modify the program you could offer curbside pickup service or set up a table outside your taproom to speed things up.
Popular Beer Growler Offerings Include:
Growler of the week - this is for very regular customers who want to pick up fresh beer every week. You could give them a new beer every week, letting them work their way through the different styles and flavors you offer. Or, you can let them choose the beer every week. Whatever is best for your clientele and operation.
Growler of the month - this type of program works for a larger variety of customers who may be looking for a way to support your local business as well as enjoy fresh beer on a regular basis. Many people may look for suggestions on new beers or beers they haven't tried before.
Growler Party Packs - this offering would entice folks looking to bring fresh beer to gatherings or events, and may want something a little different than cans or bottles. It becomes a fun party perk and spreads the word about your brewery.
In order to make up for any lost revenue due to these implemented business changes, craft breweries – similar to so many restaurants – will need to continue focusing on and growing their curbside pickup and to-go offering. Thankfully, available resources and an abundance of technology is allowing this level of customer service to grow and evolve.
As a starting point, it's important that your customers view your curbside pickup option as convenient, and your staff must be able serve them quickly. Every growler order must be expedited smoothly and efficiently. From the time the order is called in or placed online, to the time it is handed off to the customer. Make sure that each and every step of the process is well managed and properly executed.
Use technology to your advantage and offer your customers the option to pay for their growler orders up front when first placed. This eliminates the need for your staff to make change or process a credit card. Curbside pick-up should be focused on passing the customer's order through their window, thanking them for their patronage and moving on to the next customer.
But an efficiently run to-go operation is just the beginning. Attracting new customers, building loyalty and running a variety of continuous promotions requires additional thought and planning. Work with a service and App technology that is capable of providing automated marketing solutions, freeing you up to focus on what you do best—brewing great beer.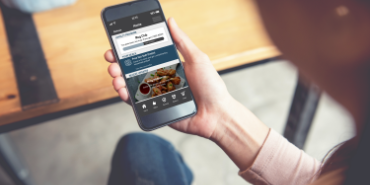 Your customers have been loyal and expect a loyalty program. Give it to them! Move past the traditional punch card. Demonstrate the value you have for you customers and reward them automatically through a personalized App that is accessible and easy to maintain.
Great customer service is all about standing out from the crowd and better positioning what you have to offer. Don't just copy what your competition is doing. Be unique and think outside the box. Think about the ideal experience that first-time guests and regulars prefer to have and develop a strategy to get them coming back. Utilize the technology that is available to enhance your brewery's current growler program with loyalty perks and online ordering. Adapt to the changing times and grow your business.
Want an experts advice on expanding your growler program or brewery business? Get in touch with us to speak with a member of our team today.