Creating a customized commercial kitchen can be one of the priciest considerations when opening a new restaurant. A built-out, specifically-designed kitchen can cost between $250,000 and $350,000.
There's no way around these costs, since a well-designed and functional kitchen is likely the most significant factor in your restaurant's success. Luckily, you can make smart choices in the planning stages to bolster the likelihood of your future success.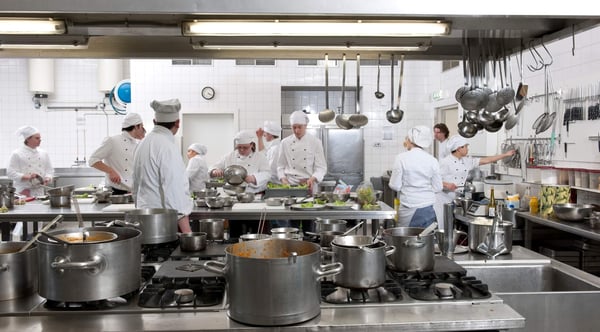 Size matters.
The ratios between your kitchen equipment and the size of your kitchen are very important. You probably won't opt to buy an enormous walk-in freezer if you're tight on space, but there are many creative solutions to help with space constraints. Alternately, if you have a lot of room to work with, you have the luxury of purchasing larger equipment. Overall, it depends on the output your kitchen needs to produce. A kitchen should be designed how you need it to function.
Think about your kitchen configuration.
Depending on your type of establishment, your commercial kitchen will be laid out differently. If you're a fast-casual restaurant with an assembly line food prep style, you'll want an assembly line configuration. Other types of kitchen configurations include zone style, in which the materials required for each type of food preparation are placed at certain stations, and island style, in which cleaning and cutting is performed along the walls and cooking happens at a central island.
Consider ergonomics.
No matter which kitchen configuration style you choose, you want to make sure your design is ergonomic for your kitchen staff. This means providing the utmost in comfort, safety and practicality.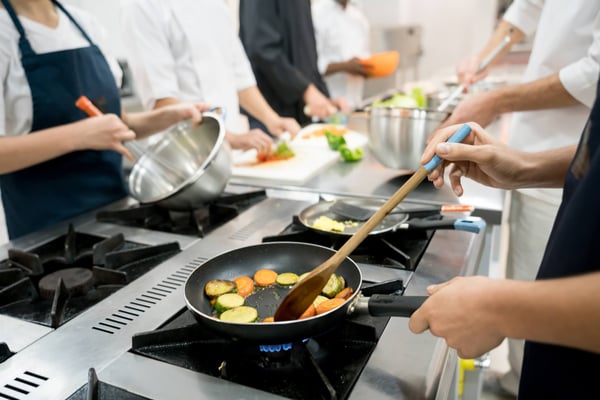 Keep a clear path to the exits in case of emergency and choose slip-proof floor tiling that's comfortable to stand on for hours. Additionally, make sure each kitchen worker can find an efficient path to necessary tools - don't build a kitchen full of obstacles.
See more tips for keeping your kitchen safe and accident-free on our kitchen safety checklist.
Rely on your menu to limit energy usage.
Consult with your chef to make decisions about where to place equipment. For example, if you put all of your cooktops in one location, then you could save on energy costs for range hoods.
The same is true for your ventilation. If you ventilate and cool your kitchen properly, you'll save on energy costs, ensure safer working conditions and keep your employees' productivity up.
Prioritize versatility.
Even if you construct the perfect kitchen for today's menu, will it still be ideal for meeting customer expectations a year from now? Flexible equipment is important in this ever-changing industry. If possible, choose equipment that can shift in purpose and even in arrangement.
Make cleanliness-supportive decisions.
Designing your kitchen in a way that helps you clean it can make your life and your staff's lives much easier. One of the best ways to help in cleaning tasks is to provide clean storage solutions. While shelves aid in reaching cookware during service, cabinets with doors for storage are actually easier for maintaining cleanliness.
Read our post on sanitary food storage for more tips.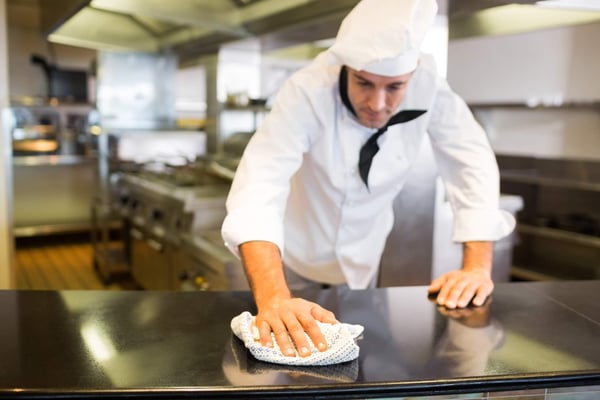 Your partner in kitchen design
According to restaurateur John Kunkel, one of the most devastating factors for small restaurant owners is underestimating kitchen construction costs. If you're not certain how much your kitchen design will run you, Boelter can be your kitchen design consultant. Our Commercial Kitchen Solutions can help you remodel your kitchen, as well as working with you on other important aspects like bidding, project management and equipment installation.
Contact a Boelter expert to get started on your new kitchen!