Your restaurant or brewpub's atmosphere is almost as important as its food. According to QSR magazine, restaurants are increasingly aiming to influence customers' psychology through design elements like color, decor and lighting.
The layout of your restaurant, especially how you set up your seating both inside and outside, is important. Here are seven tried and true steps to choosing seating arrangements that your customers will love.
#1: Consider NAFEM regulations
NAFEM regulates how much space every establishment needs to have per customer. For table service at a hotel, club or restaurant, 15-18 square feet are required per customer. Counter service restaurants must reserve 18-20 square feet of dining room space per patron.
#2: Match your seating choices with your establishment's design concept
Your seating should match your overall design and feel. For example, if you have an open concept dining room, you don't want high-backed chairs that cut off the flow of the space. Or if you have a luxury establishment, choosing kitschy, eclectic seating could take away from the sophistication.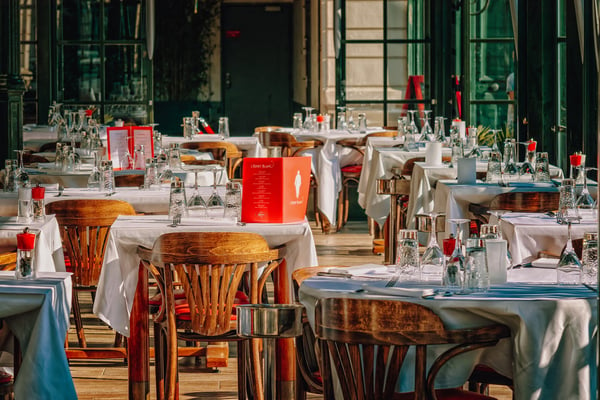 #3: Choose seating that's easy to clean
You could have the most beautiful seating in the world, but if your chairs aren't easy to clean, that beauty will fade – and quickly! To ensure the longevity of your attractive furniture, choose seating with simple, straight lines; forgo ornate, carved options. This way, you can easily wipe down the seats.
#4: Weigh the pros and cons
Different types of seating have vastly different features, some good and some not-so-good. Take anchored booths, for example. Booth seating type fills empty spaces, accommodates more guests and gives customers more legroom. On the other hand, booths limit your renovation potential and tend to encourage guests to linger longer than they otherwise would. Make a list of benefits and drawbacks before choosing a seating type.
#5: Add stools to your bar or countertop
Bar seating has numerous benefits. It eliminates the congestion of diners waiting for tables. It also encourages folks who come in for just one drink to have another, or even to order dinner. Plus, why waste all that extra space? A tall, slim chair lets you fit in plenty of bar-going patrons without making them feel cramped.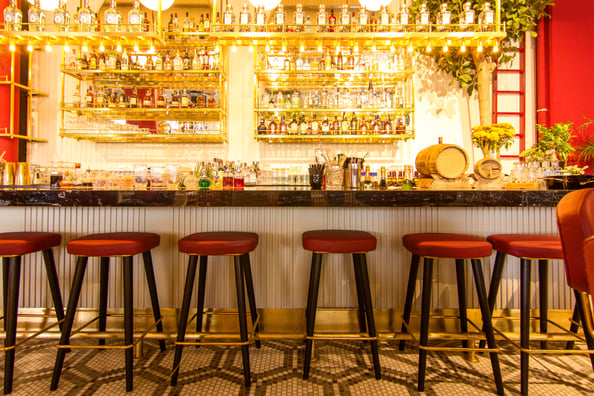 #6: Test out your seating
Once you've set up your restaurant – and before you've anchored anything – be sure to test out your arrangement. Does one seat give too good of a view into the kitchen? Does another block the entry into the bathroom? If so, make tweaks now so there's not a single bad seat in the house.
#7: Don't forget your outdoor patio
In the warmer months, diners love outdoor dining. One of the draws to outdoor dining is nice furniture. After all, if they wanted typical lawn chairs, they would just stay at home! That's why it's important to choose quality all-weather furniture to create a compelling atmosphere. The goal is to bring your indoor service and experience to your outdoor space.