You've dedicated yourself to refining your brews and creating unique, interesting food options that'll please regulars and entice newcomers. But to get consistent, repeat business, you have to think beyond the next meal or craft beer. Your customers are just as interested in being entertained as they are in enjoying your latest mouth-watering creations.
Check out the infographic below for brewery event ideas that drive traffic.

Love this infographic? Share it on your site!
---
Transcribed Infographic can be found below.
Focusing on your craft is important, and it consumes a large part of your day - every day. Turning first-time guests into regulars is equally important. Pairing your food and beverage options with interesting and unique events is a great way to draw a crown and realize continued success. Here is a great list of initial ideas for events to get you started:
LIVE MUSIC
A tasty beverage and great music go hand-in-hand, but not everyone can accomodate for a full act. Consider an open mic for small venues and encourage audience participation.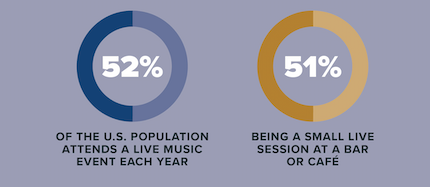 SPECIAL BREWS
Introducing a new or limited brew? Promote it with an event that adds a unique experience for your customers - include creative food pairings to make it even more memorable.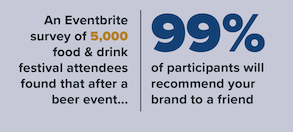 GAME NIGHT
Whether it's pop culture trivia, bar game olympics or tabletop board games, engaging and interactive activities elevate your brand and turn first time customers into regular and frequent visitors.

EMBRACE YOUR INNER GEEK
Even the most enthusiastic comic book collectors and sci-fi aficionados get thirsty. Embrace your inner geek with a themed evening of Harry Potter, Doctor Who or Game of Thrones that coincide with new episodes, blockbuster movie premiers and local conventions.

VINYL GROOVES
Like so many things that have come before it, vinyl records are on the rice in a big way. Share in this resurgent hobby and invite your customers to spin their favorite record.

BALANCING LIFE, BALANCING BEER
Provide your loyal customers with the opportunity to learn a new skill through the meditative benefits of beer-yoga, one of the more creative fitness trends currently tapping into the beverage market.

CHARITABLE CONTRIBUTIONS
Schedule a marathon, have a silent auction or host a cash raffle; all for a good cause that not only helps those most in need, but also positions your establishment as a contributing member of the community.

MARKETING AT YOUR FINGERTIPS
Creating original tasting beer is only half the battle of successfully owning and operating your own brewpub or craft brewery. Solid branding and consistent marketing are essential to standing out in a crowded market.

Want additional information and ideas for events at your brewery? Get in touch with us today to speak with one of our experts.