Traditionally, craft beer has primarily been sold on-premise. The experience of enjoying a freshly tapped beer while socializing at your local brewery is one of the reasons the craft beer industry has seen such dramatic growth over the years. But recently, off-premise sales are up, and selling beer "to-go" should be considered as a viable sales and distribution plan.
Some beer aficionados might argue that traditional retail sales takes away from the uniqueness of the craft beer experience and no longer differentiates itself from large national brands. However, retailers are very much in tune with consumer preferences and will always be looking for opportunities to emulate the success of on-premise craft breweries through off-premise sales.
Now, more than ever before, it's important for every craft brewery to be taking the steps necessary to continue promoting their name and their brand. As millions of craft beer lovers across the country eagerly anticipate re-entering the hallowed halls of their favorite brewery, now is the time to promote your craft and make a point with your point of sale strategy.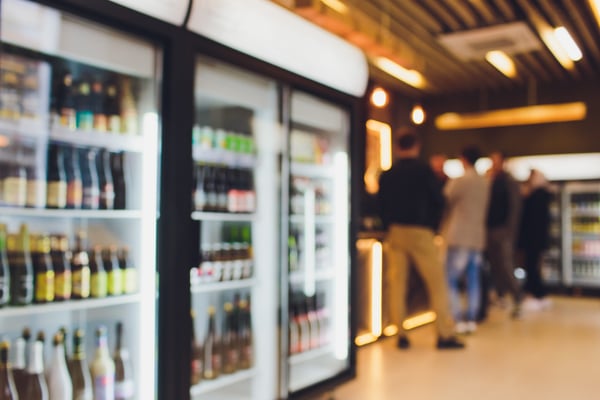 Consider these tips as you work through your off-premise and beer-to-go initiatives:
Stand Out in a Crowded Space
Whether you're positioned within a local liquor store or the corner grocery, make sure your branding is prominently displayed and catches the eye of every customer. Proudly present your brewery's most unique or popular beer or your newest recipe on shelves, stackers and corrugated risers that clearly exhibit your branding. Opt for colors that are bold and vibrant, and ensure the wording can be read from across the aisle. Take pride in your craft and be sure it gets the attention it deserves.
Small Idea, Big Impact
Even the smallest idea can have the biggest impact when it comes to branding and product marketing. Sticky shelf talkers, ceiling danglers, window clings and floor placements. Make it so that no matter where the customer is looking, they only have eyes for your brand. And it's not always about how big of an impression you make or how much real estate your branding utilizes. A strategically placed logo can help even the most indecisive beer drinkers make the right choice.
Your Fans are Your Biggest Advocates
Don't overthink it. The practicality of the idea often becomes the biggest win for your off-premise business. Let your fans do the "heavy lifting". Selling a variety of tote, lunch coolers and brown paper bags, each with your branding clearly identified for everyone to see, is a great way to continue getting your name out there. Used at work, on vacation or attending any number of social gatherings, your biggest fans will be promoting their favorite beer without ever saying a word.
Signs Signs, Everywhere A Sign
Chalk-based A-frame menu boards. LED light boxes. Laser cut, digitally printed hardboard wood. What do all these different types of signage have in common? They're the most classic form of craft beer advertising you can think of. People of all ages collect them and prominently display them in their homes, garages, and on the walls of the businesses they own. Like a family portrait or your Aunt Jenny's noble attempt at pottery, they complete every room they occupy. They catch your eye, make a statement and get you thinking about one thing, and one thing only – BEER!
Want an expert's advice on boosting your off-premise strategy? Reach out to us and speak with a specialist about your brew and business! PLUS - Don't miss our top tips for your growler program.